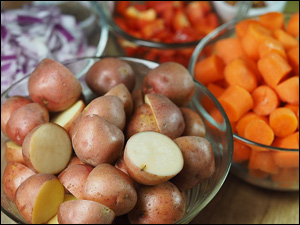 It's never been easier to be a vegan. There are so many recipe sites on the Internet that you could cook a different vegan dinner for the next ten years and barely scratch the surface. "Best" is entirely subjective, but these are the four best vegan food blogs in my opinion, especially for someone who is new to veganism and needs ideas and inspiration.
Fat Free Vegan Kitchen
Susan has a recipe for everything, and I mean everything. I have so many favorites from her site that I won't try to list them all, but try the Barbecue Blackeyed Pea Burgers and the Southwestern Chayote Casserole. You'd never guess that something with so much flavor could be so low in fat and calories. I've also made her Impossible Pumpkin Pie at Thanksgiving for a couple of years now. I didn't like pumpkin pie before, but now I do! Next on my agenda to try – the Pear Spice Upside Down Cake.
Many of her recipes have a Southern flair, but without the fat and calories that come with most traditional Southern dishes. And even if you don't know your way around a kitchen very well, there's a category called "Ridiculously Easy" for recipes that are, you guessed it, ridiculously easy to prepare.
Brand New Vegan
If you're going to make just one dish from Brand New Vegan, let it be the Savory Mushroom Pot Pie. It's mushrooms and vegetables in a rich gravy under a cornbread crust – absolutely delicious and easy to make. I've also had the Crispy Baked French Fries and the Spicy Buffalo Cauliflower Bites, both scrumptious, and I'm looking forward to trying the Sweet Potato and Black Bean Chili. Chuck remakes a lot of classic comfort food dishes into vegan masterpieces!
The Helpful Articles (top link) are especially valuable, with lots of informative articles on vegan health, shopping, living and more. I like the "The Perfect Onion" article – I do love my onions!
Vegan Richa
If you were a cheese lover in another life, you can love again! Richa has some delicious cheese recipes – my favorite so far is the Almond Milk Pepper Jack. And if you like Pizza, you'll love this site – there are literally dozens of pizzas! My all time favorite vegan food dish is the deep dish Blackeyed Pea Lasagna Pizza. It's a wonderfully imaginative creation that is a cross between pizza, pie and lasagna. It's a little more complicated to make than most dishes, but it's so worth it! I always eat too much when I make this!
But it's not all pizza and cheeze. There are countless desserts, many of them gluten-free. And if you like Indian food, this is the place; there's a large selection of Indian recipes. I want to try the Zucchini Wheat Flatbread.
Cooking With Plants
Cooking With Plants is run by Anja, who in 2012 went vegan overnight after reading The China Story. In 4 months, she lost 50 pounds and learned to cook like a master vegan chef. Her recipes are just delicious – as I sit here typing, I've got a pan of the Cauliflower Ground "Beef" cooling on the stovetop for tacos, nachos and spaghetti Bolognese for next week. She's also got a stretchy vegan "cheeze" recipe that I want to try in some enchiladas – I will post the recipe here if it turns out well.
Check out the Youtube channel for CookingWithPlants. I think you'll find it very informative, and you will enjoy listening to Anja's charming Australian accent too!
These are only 4 of the many, many food bloggers and vloggers on the Internet. There are more resources for vegans today than there has even been. Our numbers are growing, and in no small part because of people like these wonderful bloggers who share their talent and culinary genius with all of us!