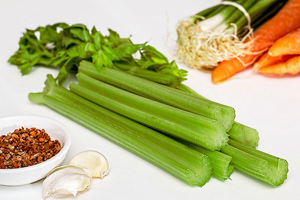 This vegetable stock is a savory beginning to many soups, stews and sauces. It's easy to make and it can be mega-cheap if you save odds and ends of vegetable scraps to use. You can use any combination of vegetables, but don't use any of the cruciferous veggies, as you don't want a sulfur taste to your stock. The measurements in this recipe are approximate; just be sure you use enough vegetables, keep the temperature low, and simmer for at least 1 1/2 hours.
Ingredients
2 large onions
6 large carrots
6 stalks celery
6 large potatoes
1-2 cloves garlic, minced
1/2 c. oven-dried mushrooms (see Notes)
10 cups water
Salt and pepper to taste
2 t. poultry seasoning
3-4 drops Kitchen Bouquet
Instructions
Wash and clean vegetables, peel if desired.
Put them in a large pot with dried mushrooms and add water to cover plus about one inch.
Bring to a boil, lower heat and simmer on very low heat, covered, for at least 1 1/2 hours. It will cook down; you can add a little more water if you like but it will be more flavorful if you don't add any more liquid.
Remove from heat and let cool slightly.
Strain broth into a clean container, using a fine mesh strainer or a strainer covered with cheesecloth.
Add poultry seasoning and Kitchen Bouquet if using and stir.
Add salt and pepper to taste.
Notes
*To make your own oven-dried mushrooms, spread cleaned and sliced mushrooms on a baking sheet and bake in a very slow oven (as low as your oven will go) for one hour. Turn mushroom slices and bake for another hour. Remove from oven and cool.