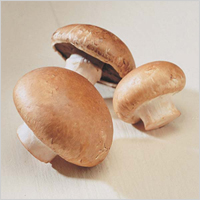 This soup is earthy and full flavored, redolent with onions and garlic, and thick with baby bella mushrooms in a rich vegetable broth. I based this recipe on the mushroom soup recipe at The Kitchn. I left out the dried mushrooms (since our own veggie broth used in this recipe was made with oven-dried mushrooms) and the 4 tablespoons of butter, bringing the cost and the fat way down. This soup will warm and comfort you on the coldest day!
Ingredients
1 large yellow onion, chopped
4 cloves garlic, minced
16 oz. baby bella mushrooms, most roughly chopped, but leave a handful of thick slices
6 cups vegetable stock*
1/2 c. dry white wine
1 T. nutritional yeast
Salt and pepper
Instructions
Put 2-3 tablespoons of water in a pot and add chopped onion and garlic. Cook on very low heat for 10 minutes, watching carefully and adding water as required.
Add the mushrooms and stir to combine. Add 2-3 tablespoons of the vegetable broth and cook over very low heat for another 10 minutes, again watching carefully and adding water if needed.
Add 1/2 c. wine and the rest of the vegetable broth and bring to a boil.
Add nutritional yeast and stir to dissolve
Reduce heat to low and simmer, covered for 1 hour.
Add salt and pepper to taste.
Notes
Use a rich and savory vegetable stock like the one linked in the ingredients. If you don't use our recipe, add 1/2 oz. of minced dried mushrooms to the wine and water, bring to a boil and steep for 20 minutes before adding to the pot with your vegetable broth, and use whatever spices you prefer.