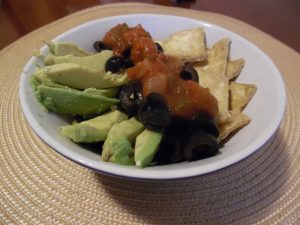 Power bowls are a new trend in eating. The idea is simple – layers of different foods that compliment each other in one bowl. I've heard that food tastes better in a bowl and after trying this, I think it's true!
Notes
Season your rice to your taste. I cooked mine in a little veggie broth with 1/2 t. of onion powder. I added 1/2 t. cumin and a tablespoon of salsa to the beans along with 1/4 ea. garlic and onion powder. You can season both to your own taste.
You can vary your ingredients as you choose – try an Asian bowl with rice noodles or white rice layered with Asian cucumber salad, sprouts or greens, tofu cubes, edamame, sesame seeds and crunchy noodles. Or try a Southern bowl with blackeyed peas and rice with fried okra and greens – the possibilities are endless!