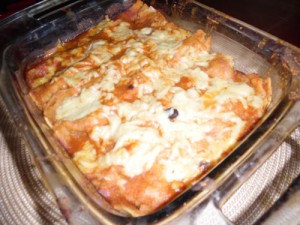 I think that if I had a favorite kind of cuisine, it would probably be Mexican. My mom used to make enchiladas much like these, except that she used real cheese and chicken or beef instead of beans. These hearty, "cheezy" enchiladas will satisfy even the most committed Mexican food-lover. I serve these with a green salad and a cold Mexican beer with a lime wedge.
Notes:
If you like, instead of rolling the enchiladas, you can stack them. You don't have to warm them in enchilada sauce; just put a layer of tortillas in the dish, top with black beans and cheeze, pour on a little sauce, and repeat. Finish with more sauce and the 1/2 c. cheeze. This cuts the prep time by half at least.
I used the Almond Milk Pepper Jack cheeze from Vegan Richa's website. You could also use any shredded vegan cheeze, but I like making my own – it's less expensive and less processed and, in my opinion, it tastes much better! You can leave the oil out of the recipe if you like and replace it with an equivalent amount of almond milk, but the cheeze won't be as melt-y then.
If you use canned but you don't care for the strong taste of enchilada sauce, you can dilute it by half with tomato sauce, or make your own.