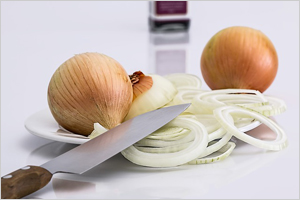 My favorites change as time goes on and I try new things, but these five are pretty much standard.
Nutritional Yeast
Onions
Oatmeal
Almond Milk
Flax Seeds
Nutritional Yeast
Nutritional Yeast is an ingredient you'll see a lot of around here. I use it in chickpea omelets, nut milk cheese, casseroles, soups, stews – it's an essential not only for flavor, but it's also an excellent vegan source of B12. A little goes a long way but it's cheap too! Bob's Red Mill Nutritional Yeast is about $0.79 per ounce, and if you buy it from the bulk bins it's even cheaper.
Onions
Almost every savory dish that I cook begins with chopped onion. Onions are one of the most economical vegetables that you can buy. They are a bargain (I've found them as low as $.50 per pound) and not only are they a flavor powerhouse, they provide your body with potassium, fiber, vitamin C and vitamin B-6.
Oatmeal
I use a lot of oatmeal. I eat it as hot cereal with apples, walnuts and maple syrup, I use it instead of rice or breadcrumbs in veggie burgers and loaves, I make delicious cookies with it – I even use it in my homemade dog food! I buy the old-fashioned rolled oats. A big bag at Bi-Mart costs less than $3. Oatmeal provides fiber, protein, vitamin A, vitamin B-6, iron, calcium and magnesium. I also use steel cut oats as a substitute for bulgur in veggie burgers or loaves.
Almond Milk
This is a wonderful substitute for dairy milk. I use it for everything, with one exception – I use soy milk for cappuccino (it foams much better). While whole almonds are much more nutritious, almond milk does provide a bit of protein and fiber. Commercial almond milk is usually fortified with calcium, vitamin A and vitamin D, and sometimes vitamin C. I pay about $2.89 for 1/2 gallon at Fred Meyer. You can make your own almond milk with soaked almonds and water. I have not tried this yet, but intend to soon.
Flax Seeds
Flax seeds are the richest source of omega-3 fatty acids that you can buy. They are also an excellent source of fiber, protein, vitamin B1, Manganese, magnesium, phosphorus, and selenium. I grind them into meal to use as egg substitutes in baking – 1 T. ground flax seed and 2 T. water = one egg. I also put them in my dog's homemade food. A 24-oz bag of Bob's Red Mill flax seeds is about $8-9. You can get them much cheaper at the bulk bins of your supermarket.
My next ingredient to try is miso paste – it's on order and should be here by next week. I want to make this stretchy vegan cheeze from CookingWithPlants on Youtube:
Anja from CookingWithPlants is a wonderful cook. She also does a cauliflower "minced beef" that has become one of my staples. I'll soon be doing a post on my favorite vegan food blogs and vlogs. Stay tuned!