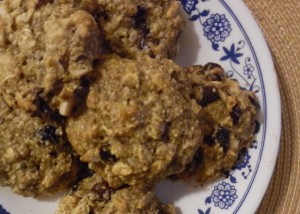 These cookies were inspired by the orange oatmeal cookies my mom used to bake. They contain minimal fat (even less if you sub applesauce for the butter) and maximum deliciousness. A light orange flavored oatmeal cookie thick with sweetened dried cranberries, almonds and chocolate chips. I had to restrain myself from eating them all before I could take the picture!
Notes
You can grate your own orange zest from the skin of an orange, but it takes a lot of grating to get a tablespoon. I buy dried orange peel in the spice aisle and it's much more convenient, although fresh grated has more flavor. You can double up on the orange peel if you like a stronger orange flavor.
You can use a vegan butter like Earth Balance or if you like you can substitute coconut oil. If you want really low fat cookies, use 1/4 cup applesauce instead.
Although I used vegan dark chocolate chips this time, vegan white chocolate chips go very well with this cookie. They're hard to find in grocery stores, but Amazon sells a 4-pack of King David Kosher Vegan Lactose Free White Chocolate Chips.