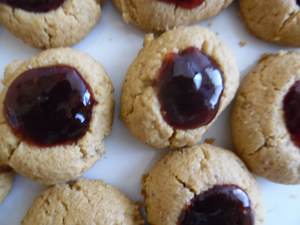 Flourless peanut butter cookies are chewy and delicious – you'll never miss the flour. Add the perfect compliment in the form of jelly and you've got the best of both worlds. They are very easy to make, with only 7 ingredients. You can use any kind of jelly that you want – I chose raspberry because it's my favorite.
When shaping the cookies, don't flatten them with a fork in the traditional criss cross pattern. Instead, use your finger to poke a deep indentation into the ball of cookie dough. When they are finished baking they should form a shallow little "bowl" where you can put the jelly or jam.
Notes
If you like, before putting the cookies into the oven, put 2 or 3 chocolate chips into the indentation in the cookie ball. Bake, cool and fill with jelly as usual. Delicious!