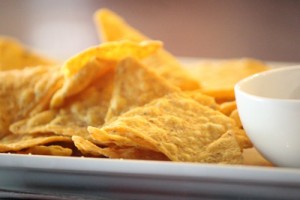 Or, How to Trick Your Kids Into Eating Vegetables
It's not true that all kids hate vegetables, especially if they have been raised vegan. But they can be picky about their choices. When I was a kid I loved cooked spinach and sliced tomatoes, while my sister wanted cucumbers with every meal. But I think all kids, big and little, want a little comfort food in their lives. These nachos are comfort food personified, packed with nutritious vegetables (tomatoes in the refried beans, carrots and potatoes in the cheeze sauce, cauliflower in the taco "beef") and every bit as tasty as their fast food counterpart.
Notes
You can use packaged vegan soy crumbles here, but for an extra dose of cruciferous goodness, use the cauliflower minced "beef" from CookingWithPlants.com. It's much healthier and in my opinion, tastier! I make a couple of batches every month and freeze it in small containers, then reheat in the oven to dry out any excess moisture.