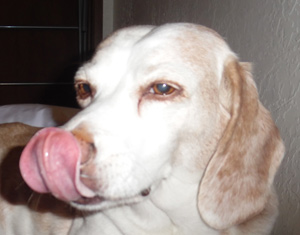 When I first starting eating strictly plant-based foods, I still fed my dogs meat. For a time I switched to a vegetarian diet, giving them eggs and bits of cheese for treats. But then I started reading about the dairy and poultry industries, and I knew that I could not buy these products and support the industries that caused so much pain and suffering. So I decided to investigate vegan dog food and found that although there were many, they were all way too expensive for us. I decided I should make my own, and after doing a little research, I came up with this recipe for my dogs. You can vary the grain and the type of beans or peas you use, but don't leave out the peanut butter – they love it!
Notes:
Feed about 1/2 cup per 10 lbs of body weight.
You should supplement with l-carnitine and especially with taurine. Shortages of both can cause problems, so be sure to add them to your pet's food. Dosage should be:
Taurine – 50mg per 10lbs of body weight
L-Carnitine – 30mg per 5lbs of body weight
I buy vegan capsules of these nutrients and pour the contents of the powder onto a small plate, and divide it into the proper dosage. For instance, if you want to put 100mg of taurine in your dog's food, and the capsules contain 200mg, you're going to want to use half the capsule. You don't have to be exact in measurements, just eyeball it.
There is also a supplement called Vegedog that contains these and other nutrients for a vegan dog.